When a van pulled up to the historic Tonopah Park in North Las Vegas on a recent Monday, there were about 40 people — mostly Black men, both young and old — scattered about at picnic tables, on blankets, in tents, on bikes and with dogs. Some were sitting amongst each other as strangers, some were socializing and others were set apart or alone. 
An outreach team of about six "care managers" got out of the van and dispersed around the park, handing out cards, water and flyers for an upcoming resource fair held every quarter that offers medical check-ups such as blood pressure testing, housing assessments, health insurance enrollment, information about free phones, and free food and water. The group, launched in North Las Vegas in 2021, is called the Homeless Outreach and Mobile Engagement (H.O.M.E.) Team.
"Everyone here set up this weekend," said Jason Lilly, the North Las Vegas homeless services coordinator, as he pulled up to the park. "There were no tents here last week."
This comes as Clark County's unhoused population increased to 6,500 people in an annual point-in-time count conducted in January, near the historic high of 7,000 seen in 2015. 
Lilly said every morning, from Monday to Thursday, the HOME team heads out at dawn on a journey to conduct outreach based on requests sent to North Las Vegas City Hall about homelessness activity. He said four members of the team are part of the local nonprofit Chicanos Por La Causa, which offers housing counseling, and that he and Tunya Clay are employed by North Las Vegas. 
He said the group is made of mostly "passionate" people who faced homelessness in the past, including himself. Lilly said an abusive home life during his teen years led him to run away and live outdoors to escape violence in his household. 
"One of the challenges is that … obviously parks are not designed for people to live in," Lilly told The Nevada Independent before entering the park. "Some people actually cut some of the fences this weekend … So we'll go out and find out what their situation is to see what we can do, and remind them that it is illegal to sleep here and that there are options."
He walked through the park to an older person in a tent with a large dog, asking her if he could have her name to look her up in the Homeless Management Information System that collects and stores data on homeless people in Clark County. The system includes details such as whether someone has had a housing assessment, the outcome, the services they receive and other notes about them.
The 62-year-old woman, Vicki, told Lilly she is disabled, has an income of $1,100 a month and that she could not afford housing. Her profile in the management system showed that last October, she had a housing assessment and that she is enrolled in the Salvation Army program that provides shelter every night but that she likes to come out to the park during the day in her tent.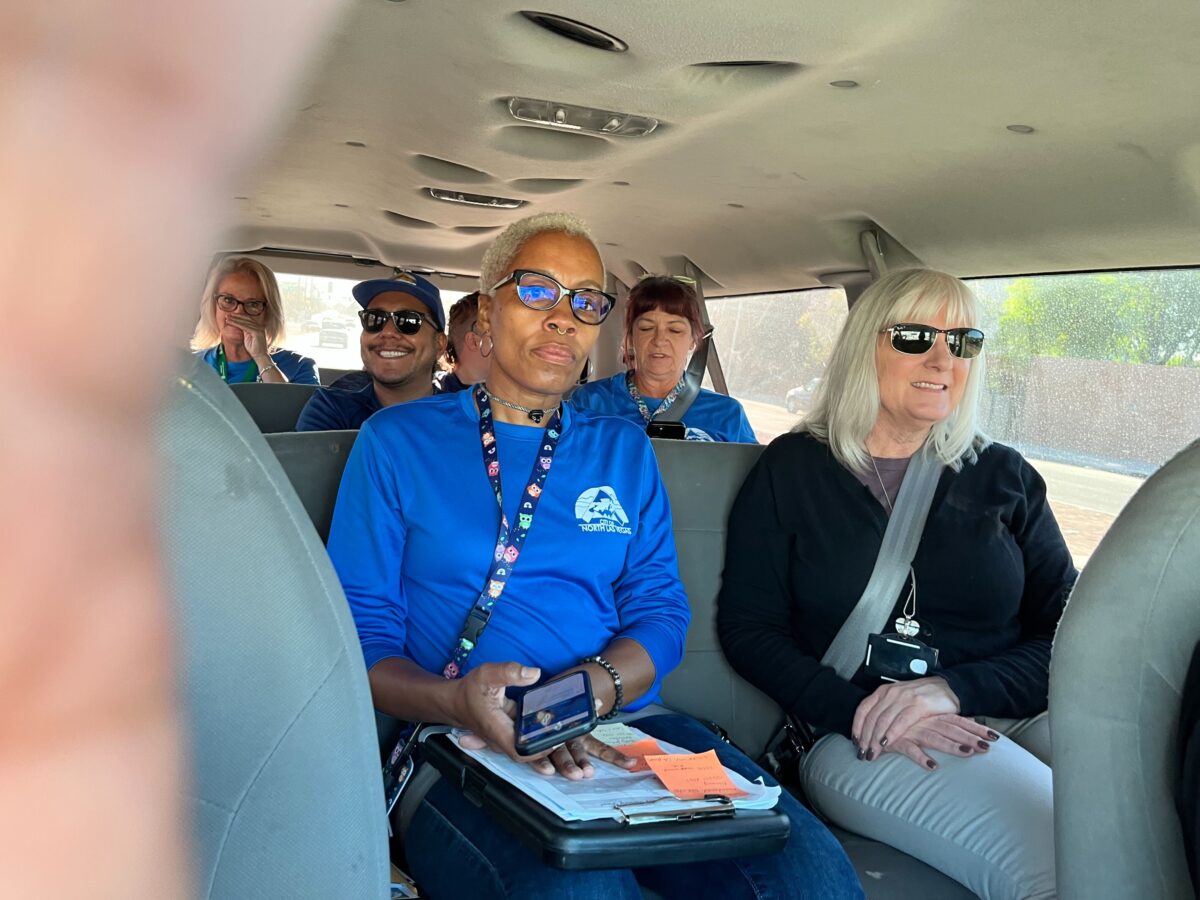 "I think it was at the courtyard," she said when asked about the housing assessment, referring to the Las Vegas Courtyard Homeless Resource Center. "But nothing ever came of it and I've never heard anything from anybody."
Vicki was one out of about four women at the park that morning. According to Kathleen Richards, spokesperson for North Las Vegas, 60 percent of the people the team helps are male and 40 percent are female.
Because of her income, Lilly suggested that Vicki sign up for a program called the Just One Project, which he said is a "shared housing program for two people" where clients meet virtually and then in person to see if they are open to being roommates. Once a match is declared, Lilly said coordinators from the Just One Project will begin to seek out a two-bedroom apartment for the pair that fits their needs and costs about $750 a month that they could split.
"Some people can literally get housed the day we meet," Lilly said. "And then there are other people that are on the street that had been there for decades. So it really just depends on the commitment from the client and the care that they're receiving from the outreach teams."
Some of the people Lilly spoke with didn't have identification or birth certificates, Social Security cards, addresses and phone numbers — things that are necessary for job opportunities, health insurance and housing.
A man named Reginald, who appeared to be in his early 20s, told Lilly he became unhoused four months ago, had no housing assessment and was interested in services. He also told Lilly he had identification, but when the woman he was with, who appeared to be at least 40, intervened, he diverted to her rule, which meant she would give Reginald the necessary information for help.
After Reginald received a flyer about the upcoming resource event and a business card with the HOME Team information, the woman he was with took the material away from him. This came after Lilly found that the woman was enrolled with HELP of Southern Nevada, which offers "direct services" to individuals without homes.
"She was obviously annoyed that we were engaging him," Lilly said. "So I have to trust and have faith that he will get his head straight and contact me."
He said that most relationships "out here are pretty volatile," when asked if the team steps in when they see red flags for abuse and that "usually it's a man controlling women."
According to Lilly, the HOME Team can only step in on abuse when they witness a physical altercation, and they do so by calling community outreach police who would come and assess the situation. He said a bruise or wound is not enough to report abuse.
Clay said the team is mandated to report homeless children to Child Protective Services and if they witness someone who is blind, can't walk or cannot take care of themselves, they report them to Adult Protective Services.
Later, some of the team drove over to an abandoned Beauty Supply Warehouse on east Lake Mead Boulevard and Las Vegas Boulevard. They spoke with a mother who said she recently lost custody of her children to her mother and had no identification or income. She said she wanted a job on top of the "daily labor" she takes up to earn cash.
She was also given a flyer for the resource event, which attracted 47 providers and 250 attendees, according to Richards.
"He rescued me out of an abandoned house I was living at," she said, referring to a man she was in a truck with that morning. She said she was struggling after a split from her husband.
Lilly encouraged the woman to go to the Las Vegas Courtyard Homeless Resource Center to get a housing assessment and temporary identification card, which is only good for social services, and to seek out a free phone so she could follow up with him so "they can work on getting her placed." 
Several people were milling around the vacant building's parking lot, with one person pushing a cart as he walked by loudly screaming gibberish, another person perched on a bike as his clapping echoed through the area and a third person sitting on the curb quietly, with his arms folded over a halfway ripped-off shirt.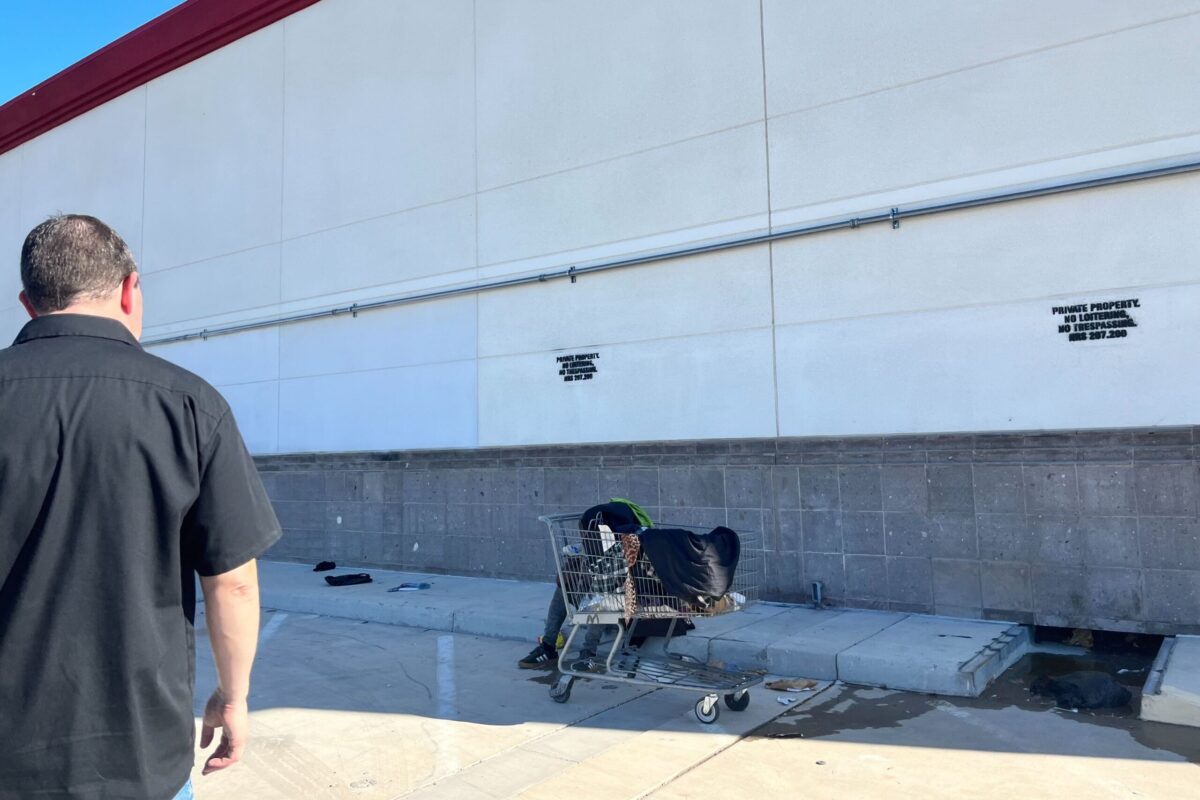 Lilly approached the third man sitting on the curb after speaking with the woman near the truck. The man asked for money, then told Lilly he made $165,000 a year and that he was not homeless.
"There's enough resources to help everybody," Lilly said. "It's a matter of do you have enough people willing to accept the resources and … some people have severe mental health [issues] and they don't think they have mental health [issues]. So they refuse to get a mental health assessment."
He said he believes that getting out of homelessness is easy once people get past barriers such as obtaining an identification card. He also said that entry-level workers at government agencies can sometimes "over promise and under deliver" which creates distrust and a rejection of services from people experiencing homelessness. 
Lilly said it takes about three positive interactions with a coordinator to establish a rapport with someone who "lives on the streets."
"The reality is most homeless people don't want help for a variety of reasons," he said. "One, they don't trust people. Two, they've been burned by social service organizations already."